As silly as it sounds to get emotional about a lipstick, I got verklempt when I sat down to write about today's MAC Unsung Hero, Paramount Lipstick ($14.50), because it's been a such a pivotal color in my makeup life.
My BFF introduced me to it about 15 years ago in college; since then it's been on my lips or by my side (literally, in a purse or a pants pocket) through some of the most important moments of my life.
In the living room at my parent's house, I'm wearing it in a graduation picture taken a few seconds after I walked across the stage to get my diploma. The color also holds the distinction of being the very first MAC product I ever purchased (shout-out to the MAC Arden Fair counter in Sacramento!).
When I pulled out Paramount this morning it hit me like a ton of bricks!
Wait — not like that. I mean that I realized I should add it to my list of MAC Unsung Heroes. 🙂
Plus, hello! — it's a perfect color for fall!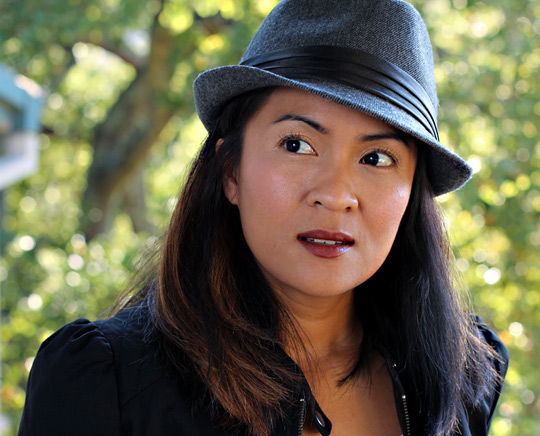 Technically, MAC classifies deep, dark reddish brown Paramount as having a Satin finish, but I think it looks more like a matte on me.
Dark brown matte lips hogged the spotlight in the mid-'90s (gloss was all but MIA), and it wasn't unusual for gals to wear Paramount year round (I did). These days, though, it's more of a fall shade for me. I think it looks right at home with the darker plums and reds that I like to wear when the leaves change.
One of the things that has always made Paramount stand out to me is its touch of red. Some brown lipsticks look very flat on my lips, but Paramount's reddish undertones give it depth and make it a little more interesting to me.
I've worn the color so many times that I could probably apply it from the tube while hanging upside down with my eyes closed, but if you aren't accustomed to wearing darker lipsticks, you might want to grab a lip brush and/or a lip pencil (one option: the reddish brown MAC Lip Pencil in Mahogany, $14.50) to help corral the pigment into place.
Paramount lasts all day long on my lips (even through multiple meals, although I have noticed that when I wear it day in, day out, the formula can be drying. My lips crave a lot of moisture, so I usually prep them with a balm. Whenever I plan to wear Paramount, before I start putting on my makeup, I'll apply a bit of Clinque Superbalm in Grapefruit first. Once that sinks in, I'll do the rest of my face, and then when I get to my lips, I usually kiss the back of my hand to blot away the balm before applying a layer or two of Paramount.
If you're looking for a few fabulous fall lipsticks, consider Paramount next time you visit MAC. 🙂
Your friendly neighborhood beauty addict,
Karen
P.S. Does your phone have a camera? If it does, you could enter the 2011 Breast Cancer Awareness Month Sign Project and Giveaway right now! (Hint, hint.)
The MAC Unsung Heroes series features some of my favorite products from MAC's permanent collection
P.P.S. I'm serious. You could put together a cool sign and send off a pic to enter The 2011 Breast Cancer Awareness Month Sign Project and Giveaway in, like, seconds.