Can I tell you a secret? Okay, first, you have to promise not to tell. It's not that I'm embarrassed or anything… Well, maybe a little, but here goes: sometimes, when I'm alone, I rock out to old 'N Sync songs.
There, I said it.
Hey now, don't judge! 🙂 Their Celebrity album was actually pretty good.
Someone at MAC even named one of the company's Lip Pencils after the band (well…), and it happens to be today's Unsung Hero, In Synch ($13).
Fate is such a fickle mistress, isn't she? I almost never met this yellowish pastel pink because for a long time I'd always just assumed it would be too light for my coloring (I'm usually more of a Subculture kinda gal). Then I decided to give it a try one day on a whim.
And I'm so glad I did! In Synch hasn't left my side in almost a month, and it hasn't been away from my lips for long during that time. As a matter of fact, I wore it practically every day when I was Vancouver last week. I just love the look — a very pretty nude lip a la Kim Kardashian.
Lately, I've been layering it beneath MAC Evolution Revolution Lipglass, but I can see it looking lovely with any number of pinks and peachy pink lipglosses in your collection.
You might try it with…
If you struggle with dry lips, I feel like In Synch isn't as creamy as some of the other MAC Lip Pencils I've tried. Prepping your lipst first with a lip balm should help. I've been using Clinique Superbalm in Grapefruit, a hydrating, non-sticky balm that layers well with other products, and it gives a tad more pigment to the pink.
After applying a thin layer of Grapefruit, I'll wait a few minutes for it to absorb, and then line and fill in my lips with In Synch. Then, I'll blend with a finger and finish with a layer of gloss.
Here's one way to round out the look…

Try sweeping MAC Blushbaby on your cheeks, lining your lash and water lines with MAC Eye Kohl in Feline, and patting MAC Eyeshadow in Soba on your lids.
And because it always pays to be 'N Sync… 🙂
The MAC Unsung Heroes series features some of my favorite products from MAC's permanent collection
Mama said knock you out!
Dream Water said knock you out. I came across this stuff at an airport last month. I have to say — it initially caught my attention because I thought it was something people drank to have good dreams.
But it's actually supposed to help you relax and fall asleep, two things I sometimes need help with. An ancient Asian saleswoman at an airport snack counter convinced me to give it a try. She was also trying to talk me into an ugly hologram unicorn bookmark and a dusty bag of salted peanuts, but I passed on those…
It was about $4 at the airport, but it's probably less expensive at other stores.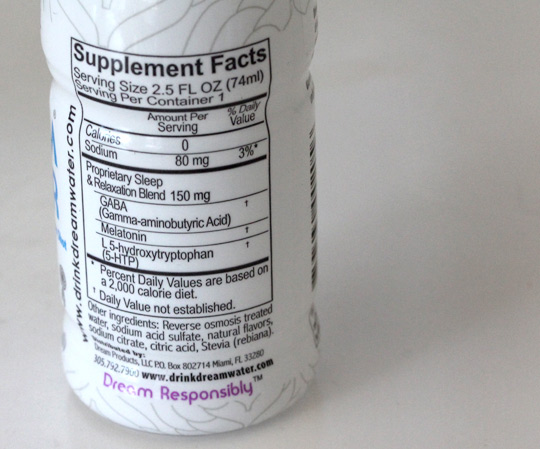 I finally got around to trying it last night, and WOW! It knocked me out cold. It's calorie-free and contains a bunch of sleep-friendly herbs. I was sawing logs within 20 minutes of downing the little bottle. No kidding, I could barely keep my eyes open to read my book.
It tastes pretty gross, though (like a mix of sugar-free Kool Aid and stinky feet). Still, I think it's better than insomnia.
Your friendly neighborhood beauty addict,
Karen