I wish I could be a butterfly on the wall at Urban Decay HQ and watch the creative peeps plan the brand's summer lineup. Do they huddle around a big table smoking blunts and eating brownies, hotboxing in a board room until someone proclaims, "Whoa! Like, Eureka!"
You know what I mean, right? 🙂 And they must know, too. Those cheeky references to herbal refreshment — nope, I'm not talking about Celestial Seasonings — aren't foolin' anyone.
Your honor, let the record show that this year's Summer of Love Shadow Palette ($29) is a little less obvious in its references than last year's incredible Get Baked (LOVE!) was, but it still has that same vibe.
The palette's been available online and at Sephora since March, but I only just recently took the time to explore its many charms.
To my surprise, the six-piece set doesn't give me the munchies, but it does make me crave glittery eye looks and pretty pops of color:

What the kit includes
Maui Wowie Eyeshadow: A frosty and cool golden beige with silver glitter
Chopper Eyeshadow: A frosty yet warm peach with silver glitter
Smog Eyeshadow: A shimmery, coppery bronze
Flash Eyeshadow: A sheer and shimmery iridescent purple
Urban Decay Sin Primer Potion: A shimmery champagne eyeshadow base
24/7 Glide-On Eye Pencil in Bourbon: A warm brown with golden glitter — incidentally, my favorite UD liner, EVAH!
It should be said that all of the shades in Summer of Love are also part of the Urban Decay permanent line, but if you consider the palette from a price perspective and don't already own the same shades, it represents a great deal. The eyeshadows alone would cost $68 if purchased individually (that's a lot of tacos, yo!), so it makes $29 look like a steal.
Really, I appreciate how concise Urban Decay made this palette. On the one hand, I like UD's big blockbuster palettes like Alice and Book of Shadows are, but their size can also make them overwhelming.
Summer of Love, however, with its four shades, lends itself to quick decisions, yet it still contains enough colors to produce a variety of looks. That, and the package's slim silhouette means it fits as snug as a bug in a rug inside my favorite travel makeup bag.
If you liked last year's Get Baked, Summer of Love might be right up your alley.
It isn't as gold, though, and its colorful purple shadow, Flash, applies much sheerer than last year's teal Flipside. Glitter also plays a bigger part this time around, with Mauie Wowie and Chopper having big, blingy silver flecks.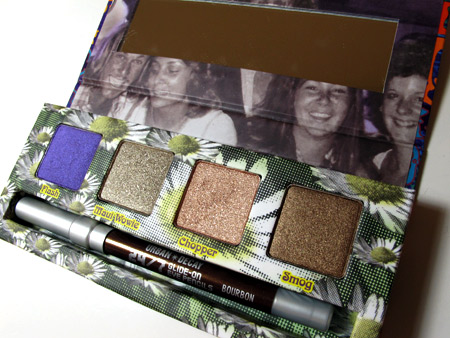 Apart from some minimal glitter fallout from Maui Wowie and Chopper, Summer of Love is tops in my book. Glitter girls who love Urban Decay might want to check it out. Makeup and Beauty Blog Rating: A
You might like the Urban Decay Summer of Love Shadow Palette if…
You don't already own the same shades
You like glittery eye looks
You want a palette you can bring with you everywhere
You can't resist a bargain!
And the card attached would say…
You may have already heard that last night Golden Girl Rue McClanahan passed away. 🙁
I've loved the Golden Girls since I was a little kid (weird, maybe, but it's true). Her character, Blanche Devereaux, was epically sexy, funny, outrageous and still so loveable — kinda like the OG Samantha Jones.
A few of my favorite quotes from Blanche…
"I'm as jumpy as a virgin at a prison rodeo."
"We're collecting lingerie for needy, sexy people."
"Oh, no, I never wear underwear."
"He is so sophisticated and charming and rich and handsome. He fairly screams Blanche. At least he will when I'm through with him!"
RIP, Rue. Thank you for being a friend.
Your friendly neighborhood beauty addict,
Karen