Wearing Dolce & Gabbana Classic Cream Lipstick in Cinnamon
For the first time in many moons, I felt a chill this morning when I stepped out of bed, and before making my way downstairs with Tabs, I bundled up with long pants a sweatshirt and robe.
Bluh…
It turned out to be sunny today, but the brisk kiss of crisp air that heralds fall never completely went away. Soon, the oak tree outside my window will lose its leaves, and the sun will set every afternoon before El Hub gets home from work.
Fall won't wait just because we wish it would, but at least the springy new lip products in the Dolce & Gabbana Sweet Temptations collection aren't all about fall.
We have tons of time to hang out with the darker, richer lip colors that usually characterize fall, but most of these shades (even the dark Berry liner) feel light, sweet and fresh to me — almost like spring.
I love it, and I love how great the nude lip colors here look when worn without additional liners or glosses. The pieces stand on their own, which is something I feel a lot of nude lip colors don't do.
Dolce & Gabbana did stamp some of these — Classic Cream Lipstick in Cinnamon ($30), Shine Lipstick in Almond ($30) and Ultra Shine Lipgloss in Praline ($29) — with their signature rosy flavor, but the Precision Lipliner in Berry ($30) remains unscented and unflavored, as usual for that particular line.
I was a little surprised by how parched all of these products leave my lips, especially considering how moisturizing the other Dolce lip products I've tried have been. I'm not sure why — whether it's me or has something to do with the formulas — but I've been applying a layer of moisturizing lip balm beforehand, and that really helps.

Classic Cream Lipstick in Cinnamon on the left and Shine Lipstick in Almond on the right

Ultra Shine Lipgloss in Praline

Precision Lipliner in Berry on the far right, shown with Crayon Intense Eyeliner in Candied (left) and Green Almond (center)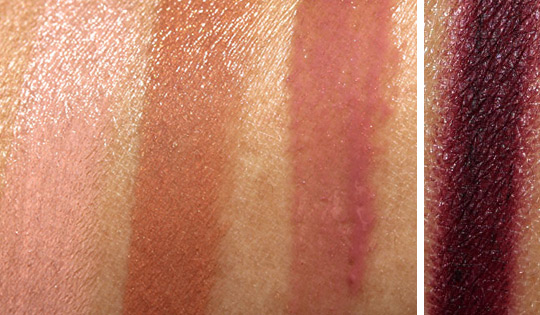 Swatches from left to right: Cinnamon, Almond, Praline and Berry

Praline

Almond

Berry

Cinnamon

Wearing Ultra Shine Lipgloss in Praline

Wearing Ultra Shine Lip Lipgloss in Praline atop Shine Lipstick in Almond
It's nice to see colors from the same collection mix and match with one another well, which these do. I can kick off the day with Almond Lipstick, and then paint Praline on top before going out to dinner with El Hub. And when that's not dramatic enough, I might don a sexy pout with Berry Lipliner by itself or layered beneath Praline.
Overall, the color palette feels more cohesive to me than last season's Italian Summertime release, and it greatly enhances their versatility.
So the lippies in the Dolce & Gabbana Sweet Temptations collection might not scream fall, but they do say fun. I can see these colors appealing to high-end makeup lovers looking for a comprehensive lip wardrobe, or to gals not ready to wear fall colors yet.
PRICE: $29-30 each
AVAILABLE: Available now at select Saks stores and also online
MAKEUP AND BEAUTY BLOG RATING: B+ (I wish they were $16 each and a little more moisturizing)
Kate came over today
They're here! They're here! You know that feeling you get when you've been eagerly awaiting a package and the doorbell finally rings? I was actually tempted to kiss the postman this afternoon when he delivered the heels and earrings I ordered from last week's Kate Spade Sample Sale.
Tabs hasn't seen the heels yet, and I have no idea how he's going to react. You just never know with that cat. When it comes to my footwear, he's not easy to please. If he doesn't like them, he'll lay in wait somewhere and attack my feet.
I hope the rest of your Tuesday went off without a hitch. Anything new or exciting to report?
Your friendly neighborhood beauty addict,
Karen