Twinkle, twinkle, little star,
How I wonder what you are,
Up above the world so high,
Like some Stila in the sky!
Like the brightest stars
on a crystal clear night, the shadows in the new Stila Backstage Eye Palette twinkle just a little brighter than every other fall product that crossed my path at Sephora yesterday.
Affordable ($28), and filled with fun colors, Backstage looks lovely in its pretty purple packaging.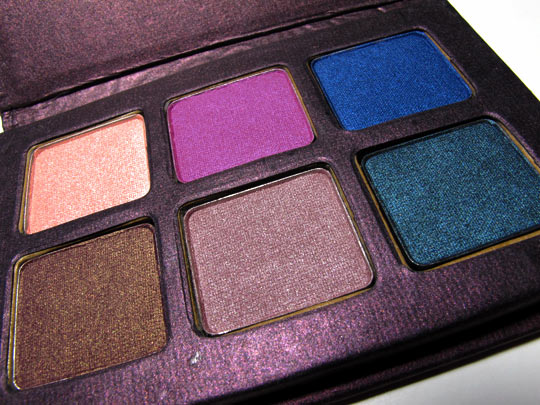 Girls who like brights might love how intense these colors are and appreciate the thought that clearly went into picking the mix of shades.
Backstage's frosty shadows sure love to shimmer in the light, and while I think frosts like these can be a lot of fun to play with, these particular ones aren't the easiest shades to wear. They can be a little messy.
All six of these shadows feel noticeably loose and airy compared to other Stila shadows I've tried — like fluffy whipped cream as opposed to smooth cream cheese (yep, I'm hungry).
After applying and blending them, I detect some shadow below my eyes, on top of my cheeks and even on the tip of my schnozz.
Not a problem to clean up with a makeup wipe, but it's a potential extra step, for what it's worth.

Swatches on NC35 skin from left: Chiffon, Flamingo, Pacific, Luster, Poetic, Coal
Because of fallout, I don't see myself rushing through many looks with these, but when I do have the time for them (and some makeup wipes nearby), I'll be going Backstage again soon. 🙂
If you like frosty brights and don't mind cleaning up wayward eyeshadow fallout, consider going Backstage with Stila this fall. Makeup and Beauty Blog Rating: B/B+
Your friendly neighborhood beauty addict,
Karen