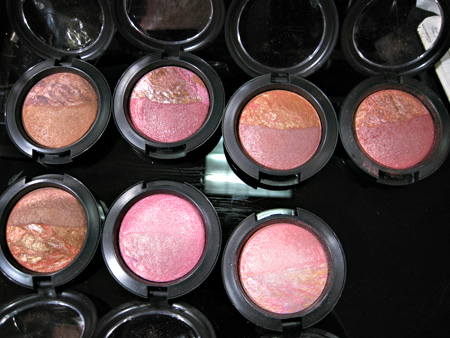 Good afternoon, blushing beauties! 🙂
I'm a big fan of flushed cheeks — they make me feel healthy, happy and bright — but apart from steamy make-out sessions or pinched cheeks, the way I get them is with the help of a good blush.
A good blush? Yep, perhaps like one from MAC's new Grand Duos Mineralize Blush Duo Collection ($22.50 each). Ohmygosh, say that five times fast!
Remember last summer's Sonic Chic Mineralize Blush Collection? Well, these new pressed powder blush duos are their cousins, with half of every pan housing a Mineralize Blush and the other half a frosty solid color in a complementary shade.

Earth to Earth
The collection includes seven blushes in various shades of pink, plum, rose and brown.
Like MAC's other Mineralize Blushes, the new duos have the same baked look and domed shape, with veins of shimmer running through them. MAC added a twist by injecting each pan with a complementary solid shade in a frosty finish. The result? A split personality blush duo — half multi-colored shimmer, half solid frost — meant to be swirled together and worn on the cheeks for a shimmery glow.

Hot Planet
I'm a big fan of MAC's Mineralize Blushes. I like how they add just the right amount of cheek shimmer without looking too oily or unnatural, but I'm not totally sold on the combo of blush and solid frost in the same pan.



Grand Duo
When I mixed a pan of colors and swatched the combined shade on the back of my hand (haven't tried 'em on my cheeks yet), the swatches looked very frosty, almost passing for eyeshadows!

Earth to Earth, Grand Duo, Hot Planet, Intenso
I'm open to the idea of using different finishes on my cheeks, but I think the frost here could make my pores look large and in charge, something my pores really, really don't need, LOL!

Light Over Dark, Love Rock, Moon River
I give it to MAC for pushing the envelope again. As spring and summer near, I wear glowy cheeks more often, and I can see myself using these blushes with vibrant glossy lips in pink, plum or peach.
The Grand Duos…
Earth to Earth: A purplish bronze marbling with solid yellowish brown
Grand Duo: A coppery pink marbling with solid plum
Hot Planet: A coppery yellow marbling with solid plum
Intenso: A pinkish gold marbling with solid terracotta rose
Light Over Dark: An orangey yellow marbling with solid deep brown
Love Rock: A golden violet marbling with solid bright bluish pink
Moon River: A bluish pink marbling with solid pale yellowish pink

All the Grand Duos
I'm going to take some time to meditate on these colors a bit before committing to a pan. Of the seven shades, Earth to Earth, Grand Duo and Hot Planet looked to be the most wearable for me.
Well, my loves, what do you think? Are you down with the Grand Duos, or does the frost turn you off?
Your friendly neighborhood beauty addict,
Karen