Cranky face of the day, boo!
Do you ever have those days when you just feel BLAH from the moment you crawl out of bed? This morning I woke up to one of those, feeling super cranky and sure I was headed for further fussiness until two things happened. Oddly, both had something to do with roses. 🙂
First, I heard Guns N' Roses' Sweet Child O' Mine on the radio. Day-am, that is one great song…
Growing up in the East Bay, I had to keep my Guns N' Roses tendencies on the 'low because everybody — EVERYBODY! — listened to hip hop, which I love too, but if you listened to metal where I grew up, you risked being labeled a pariah.
It's been years since I heard Sweet Child. To this day it moves me, and after rockin' out to it this morning, I began to feel a little better.
Then, I read through some of your comments on yesterday's MAC A Rose Romance post, and thanks to your ideas and a couple swipes of Beauty Powder and See Thru Lip Colour, I was back to my usual chipper self. 🙂
Again, MAC has soothed the savage beast.
And speaking of MAC, you gals brought up some great questions about the new collection yesterday.
Summer Rose Beauty Powder

Beauty Powder in Summer Rose on Cheeks
MBB Babe L asked:
Do you think they'd work well as a blush?
Hey, L, I think Summer Rose Beauty Powder would work well as a blush, but I'd recommend it for girls okay with having to apply several layers.
It goes on as a sheer, plummy pink, and the finish has just the slightest touch of pearl in it, which is where I bet it gets its subtle glow. On me as a blush, I think it looks gorgeous and natural, like I've just come back from a brisk walk.
It took five layers to get the color to show on me (it's *very* sheer), but I like the final look, so I don't mind the effort. If you're lighter than I am, you could probably get by with just two or three.

Secret Crush Lip Colour

Secret Crush and Not So Shy See Thru Lip Colours
The questions didn't stop there! A couple of you gals also asked about See Thru Lip Colour in Secret Crush.
MBB Babe Shivotra wondered:
I really want the See Thru Lip Colour, but I get a feeling that the Rose Romance color [Secret Crush] is exactly like the one from the Emanuel Ungaro collection last fall. Can you please confirm, Kare?
Aww, Shivotra! Nobody's called me "Kare" since college. That was the nickname my college girlfriends gave me.
About Secret Crush, it's a lil' different than See Thru Lip Colour in Not So Shy, which was released with last fall's Emanuel Ungaro collection.

From left to right: Not So Shy, Secret Crush
Not So Shy applies as a bright reddish magenta, and Secret Crush applies as a reddish berry. The difference is subtle, but it's noticeable up close.

See Thru Lip Colour in Not So Shy

See Thru Lip Colour in Secret Crush
That said, if you're trying to budget your MAC moolah and already have Not So Shy, then you probably won't need Secret Crush. If, however, their subtle differences drive you wild, then I think Secret Crush is worth a splurge because it is very pretty.
Then MBB Babe Amanda asked…
Steal my heart is really, really pretty to look at, and I love me a good stain. Both are super pretty, too. Do they *ACT* like stains? I mean, really stain and leave behind color for hours?
Hey, Amanda. Steal My Heart is one of the Lipglasses, which is just a traditional ole' lipgloss. If you were referring to Secret Crush, yup, it's a straight-up stain. The formula is thin like a liquid, and when applied to the lips, the color does leave a stain that's visible for several hours. Like most lip stains, the See Thru Lip Colours don't have a lot of shine to them, so what I like to do is pop a gloss on top. In the pic at the very top I layered Secret Crush beneath Steal My Heart. I think it's a nice combo!
Circa Plum Pigment
The last question was from MBB Babe Nicole 15:
Circa Plum looks like a dupe for Mauvement pigment in the picture. Karen, could you tell in real life what the difference was in the two?
Good eye, girlfriend! Mauvement, a pigment released in the Overrich collection last fall, does appear very similar to Circa Plum, but both do apply differently.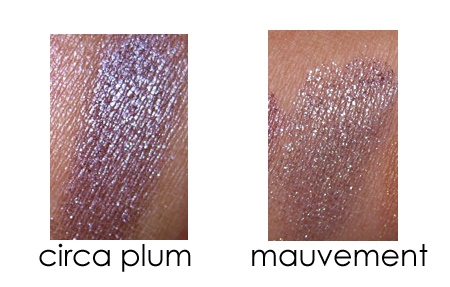 I think a little more silver and gray come through in Mauvement. Circa Plum doesn't really have the same silver to it. Matter of fact, it looks more purplish to me.
They're definitely not identical, but if you have Mauvement already, it's not necessarily different enough to rush out and get Circa Plum.
Got more questions?
Thanks for the great questions. Always keep 'em coming. If you ever want to ask anything, even if you don't want to leave it publicly in the comments, you can also email me using the contact form at the top of the page.
So how was your hump day?
Your friendly neighborhood beauty addict,
Karen