I'm looking lovingly at the Tom Ford Summer 2015 Collection and thinking, SWOON! — first, because of the limited edition white and gold packaging (hello!), which looks almost like, I dunno, really expensive jewelry? — and second, TIDE PENS.
OK, I know that was kind of (very) random…but hey, that's why we hang out. 🙂 You feel the randomness, I feel the randomness, we all feel the randomness to-geh-thurrrrr.
Anywho… Like I was saying: Tide Pens. I always carry one with me whenever I wear white because no matter how hard I try to keep whatever I'm wearing pristine and stain-free, I find a way to get makeup or a pen smudge or cat food all over it.
But I don't have to worry about that with these beauties from Tom, because even if I do get a little Sheba Chicken and Liver on one of the compacts, they're easy to clean. All you have to do is wipe.
Yeah…
I have no idea how this train of thought ended up at Cat Food Station, but I apologize for that. Let's move on, shall we? We have new Tom Ford products to get to. 🙂
The new Tom Ford 2015 Soleil/Summer Collection is available now online and at Tom Ford counters, and it's a beauty inside and out. I had a full-on "OH, MY GAWD, BECKY!!" meltdown in my living room this afternoon, no kidding. El Hub looked at me like I'd lost my damned mind.
The 16-piece collection is freaking breathtaking from, like, every possible angle. Just looking at the pieces — from the shimmering Eye Colors, to the deliciously golden plummy Eye and Cheek Compact, to the luscious lipsticks and the toasty, sun-drenched bronzers — makes me feel like an eccentric billionaire (you know, the one who promises to fund the fabulous cat lady lifestyle I'm destined to lead, LOL!) is about to treat me to a Tahitian vacation at the Four Seasons, just so that I can sit by the pool. The release exudes summer, gold and rich, like you're about to make it muthu-f*cking rain wearing just a white bikini, bronzer and five-inch spiked heels.
I mean…Tom Ford, though. He owns that sexy/luxurious makeup thing.
Of course, the products are also expensive enough to trigger panic attacks. For instance, the Eye and Cheek Compact in Pink Glow is $95 (HOLY WOW!), the Cream and Powder Eye Colors are $60, and the Sheer Lipsticks are $50.
Can you feel your heart pounding in your chest? Are beads of sweat forming on your brow? Yeah, we have officially entered CRAZY EXPENSIVE MAKEUP TERRITORY, which is where Tom Ford apparently resides.
Tom Ford Summer 2015 Soleil Collection: Product pictures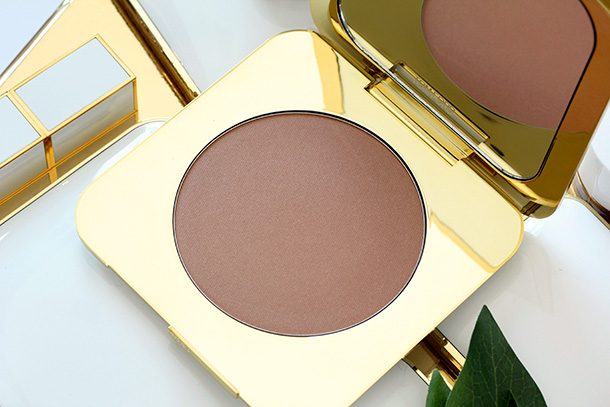 Wtih Tom Ford makeup, since it's so, so expensive, I feel like for me to recommend something, it really has to be moving or exceptional in some way. Currently I'm still working my way through the collection, testing it for wear and whatnot, so right here what I've got mostly is just a a few initial thoughts of the eye, cheek and lip products, just to give you an idea of what to expect when you see it in person for yourself at the Tom Ford counter.
Tom Ford Summer 2015 Soleil Collection: Eyes
By far, I think the most interesting/exciting pieces in the release for me are the Cream and Powder Eye Colors ($60 each), the chunky circular things that have a cream shadow on the bottom of the jar and a shimmery powder at the top.
The idea is to layer the shadows and powders together, but you can also wear them separately, of course. There are four in the collection, and I believe I've seen each of the individual cream shadow colors in other Tom Ford products and releases before. The dark khaki/pewter in Midnight Sea looks like Spring 2015 (that was the color's name; it was from last season), while the rose gold in Golden Peach resembles Pink Haze, and the warm bronze in Naked Bronze looks like Illicit.
I really do like Tom's cream shadows… I think they're some of the more interesting, usual cream shadows out there now. They have a glossy finish and an incredible wear time. I haven't really seen anything quite like them before, and for me, they're the main selling point of these combos.
As for the powder eyeshadows, they're definitely sparkly, which is super cool (MOAR GLITTER!), and the glitter flecks themselves are medium-sized (like the glitter in Tom's quads).
The collection also includes an Eye and Cheek Compact containing three eyeshadows (two shimmers and a glitter), one blush, and a highlighter called Pink Glow ($95) — a kind of unusual name, considering that the color appears more like a golden plum to me.
To test it out, I quickly put this one on half of my face the other day (does anybody else do this? LOL!). The plummy pink blush and rose gold highlighter have pigment for DAYS, and the eyeshadows play off the cheek colors beautifully.
I'm a little concerned about the plum shadow, though… I used my fingers to apply it on my lids, and after running my finger back and forth across the pan a few times, the eyeshadow developed a hardened layer on top. I don't think it's going to be a problem, but I'll let you know as I continue using it.
Tom Ford Summer 2015 Soleil Collection: Cheeks
What kind of Tom Ford summer collection would it be without bronzers, am I right? There's two shades in the collection, Gold Dust, a shimmery golden warm tan, and Terra, a matte neutral brown with a slight taupe undertone, and they come in a two sizes: a large 0.75-oz pan (bigger than my hand!) for $95 and a smaller 0.29-oz travel size (about the size of my palm) for $77.
I'm kind of a bronzing fiend and got a little flushed when I saw these. They're beautiful on the cheeks and have a LOT of potential. Terra could also easily double as a matte transition shade, too.
Along with the bronzers is a cream blush, Pink Sand, a bronzed pink with golden shimmer. This surprised me… In a good way! I popped this on the apples of my cheeks and was happy to see that my pores weren't waving from a mile away.
Tom Ford Summer 2015 Soleil Collection: Lips
The four lipsticks in the collection comes in Tom's Sheer Lipstick formula, which makes sense to me, considering the amount of shimmer in the release for eyes and cheeks… An opaque lip would've been A LOT of look.
I like how they fit with the rest of the collection, but you know…$50 for a sheer lipstick?
*Shrugs*
I should add that they each have different amounts of coverage, though, like the coral pink shade, Paradiso, and orangey gold Skinnydip, are probably closer to medium coverage than sheer.
Tom Ford Summer 2015 Soleil Collection: Swatches (for reference, I'm an NC 42 in MAC)
The collection also includes a new Shimmering Body Oil ($75) and Fleur de Portofino Perfume ($215-$525).
I plan to wear the products in some looks this week, so I'll be able to tell more about their performance, and of course I'll let you know what I find.
Your friendly neighborhood beauty addict,
Karen