Pardon me while I sit here with the two new Dior Cherie Bow Vernis Nail Polishes, Gris Trianon and Rosy Bow ($24 each), and allow these waves of '80s nostalgia to wash over me…
I'm holding on to a hero the memory of a pink and gray Huffy Capri 10-speed bicycle I desperately wanted in middle school.
The pink handle bars, the gray seat, the striped detailing!
All of the older girls in my neighborhood rode the Huffy Capri, and they'd zoom around the block like a cycling team, giggling and snapping Hubba Bubba bubblegum as their bicycle gears went click-click-clack.
They'd zip by me and I'd think, "So cool…"
I'd huff with jealously from outside the peleton, peddling down the street on my old white and yellow bike, which was defintely more Harriet the Spy than Sweet Valley High. It had a banana seat, flower decals and streamers on the handlebars.
When I added the Capri to my Christmas list one year, my accountant mom vetoed it immediately. "What's wrong with your bike?" she asked, before reminding me how much the children in the Philippines would love to have a white and yellow bike like mine.
"Well why don't you send it to the Philippines then?!" I suggested, which promptly got me sent to my room for the afternoon.
Like the Huffy Capri I wanted all those years ago, Dior's two new Cherie Bow nail polishes are also bright and shiny.
And manicures done with them are equally speedy, thanks to the extra wide brush and pigmented polish. Two swipes from the brush covers one of my nails, and fully opaque coverage only takes two layers.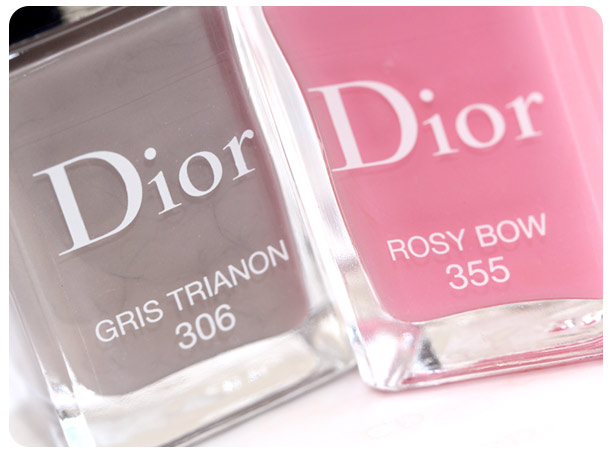 I love how saturated, rich and shiny Gris Trianon and Rosy Bow are, and even though I'm more of a mountain bike gal now, both of these shades make me feel like a cool Huffy Capri girl. 🙂
PRICE: $24 each
AVAILABILITY: Coming to Dior counters and dior.com this spring
MAKEUP AND BEAUTY BLOG RATING: A- (pretty, but pricey)
Your friendly neighborhood beauty addict,
Karen