"Kamat wimings!" said Allora, tapping Artemis on the shoulder with the Wand of Skunkrillis. Instantly — POOF! — there was a burst of twinkling golden magical ✨ energy, and a pair of raven's wings sprouted from the black cat's back.
"Mrow," said the cat, unfurling his new appendages to stretch them out.
"Good kitty," said Allora, scritching him under his chin, and the cat-raven purred in delight.
—
Makeup is a kind of magic. Our eyeshadows and lipsticks and blushes are modern day potions, and our makeup brushes are like magic wands. And when we sit down to put on our face, in a way, there's a bit of actual mysticism involved, because there is that aspect of transforming oneself. I think the coven of cosmetic lovers at Rituel de Fille probably also see it that way.
Rituel de Fille (pronounced "ritoo-el-day-fee") is a fairly new indie makeup brand. They've been around since 2015, but in that time, they've done some really cool things.
Their approach to makeup? — minimize ingredients (99% natural and no fillers) and maximize the pigment, so there are plenty of punchy colors and products with short ingredient lists. Their makeup is made without synthetic dyes, fragrances or parabens, and it's all cruelty-free. They aren't a vegan line, though, because some of their products do have beeswax and lanolin in them.
They list all of their ingredients on their website, which is cool because a lot of brands, especially bigger brands, aren't always transparent about that kind of thing.
The brand is available all over the U.S. now, as well as online at ritueldefille.com and credobeauty.com.
I get a witchy, astrological vibe from them, and I think that's what they're aiming for. The founders are three sisters (they call themselves "The Ramos Sisters").
Here's a picture of them from their website pouring what looks like magic fairy dust…
They look like three super cool gals who listen to Stevie Nicks and have probably seen The Craft a hundred times. Perhaps they have a secret room in their house where they keep all of their love potions (because in the story I just made up in my mind, they all live together in a ramshackle Victorian, obviously).
I've tested a few pieces from the line, and the Ash and Ember Eye Soots ($38 each) really stand out. They're pigments held together with a touch of oil, so they have a consistency somewhere between a cream and a powder.
They come in jars with an opening that's about the width of a fingertip, which is great, because they're designed to be applied with a fingertip (or a flat eyeshadow brush or angled liner brush). You just press down to pick up some of the product, but because the opening of the jar is narrow, you're forced to apply downward pressure, as opposed to swiping your finger back and forth.
They say that it's the best way to get the product out of the packaging and onto your lids.
The shadows, which are easy to blend and VERY pigmented, come in a bunch of different colors, and even the darker colors don't have any fallout. Just for fun, the other night before I washed my face, I took dark red Viscera and dark purple Night Shade and did this intense smoky eye. I didn't notice any fallout whatsoever.
I wouldn't call them waterproof, but they're extremely long-wearing. To take them off, I gotta bust out the big guns — either oil-based makeup removers or eye makeup removers that are made for waterproof.
And the finish is perfection. The astronomically fine pigment particles make them look almost glossy, and now I want every single shade! LOVE.
I also like the Inner Glow Cream Blushes ($24 each). Like the Eye Soots, they're versatile. You can use 'em as blushes, eyeshadow and/or lipstick.
The shade I've tried, Frenzy, is a dark burgundy, which I've mostly worn as a blush, and it's CRAZY pigmented.
As for the Lip Sheers ($21 each), they're…interesting. The thing is, they're drier than I expected.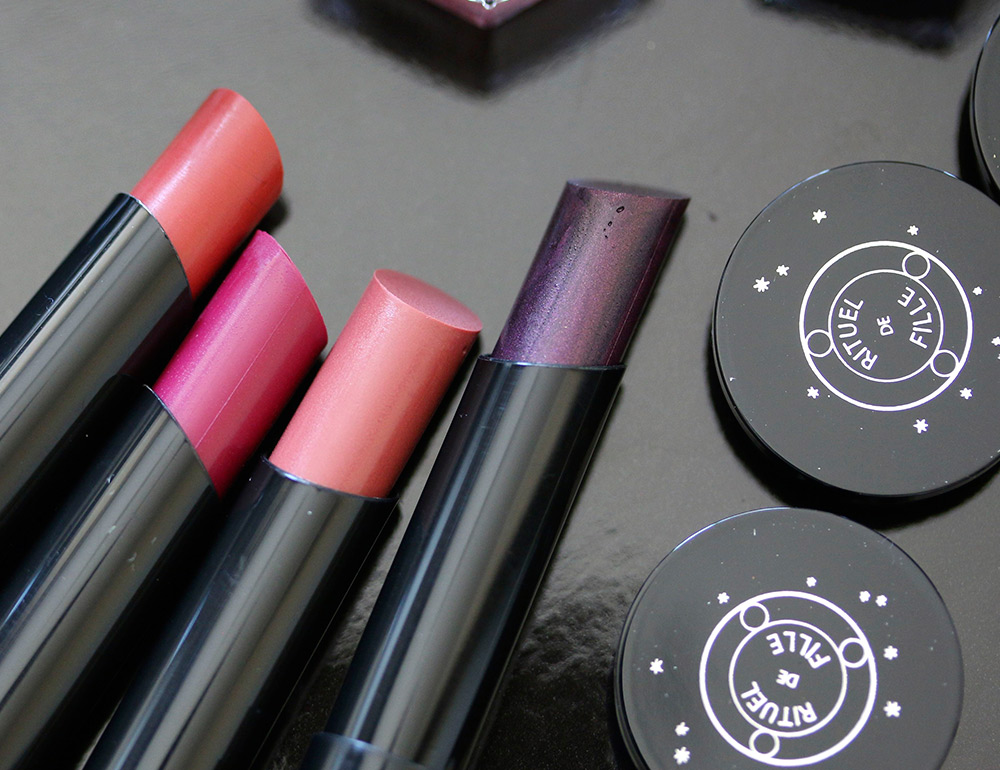 I have to work them back and forth across my lips to warm and soften them up because they feel stiff at first and don't have a lot of slip to them. I do like how evenly they apply once you get them on and that they don't look super heavy.
They taste and smell faintly of beeswax and lavender, and they don't dry out my lips (although I wouldn't go so far as to call them moisturizing).
I can't wait to see what else they come up with in the future. Whatever it is, I suspect it might be magical…
Your friendly neighborhood beauty addict,
Karen