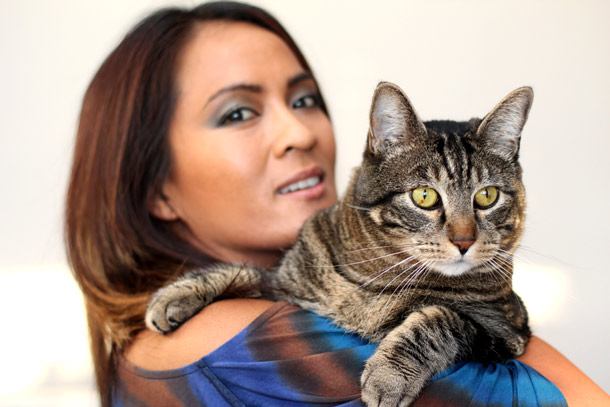 If Tabs wasn't so hell bent on mugging hard for the camera in these pics, it would probably be easier to appreciate the finer points of the new Bobbi Brown Rich Caviar Eye Palette ($47.50), like its mix of mattes, shimmers and glitters, or how its color palette of olive, gold, beige, taupe, gray and dark brown eyeshadows looks kinda like tabby coloring.
Even when I shoo'd him out of the shot, he still found a way to get in the frame (see the tabby tail in the lower right-hand corner?).
I always get weak in the knees for olive and gold palettes, especially ones with sumptuous shadows like these. They're just so flexible, even if the colors themselves aren't entirely unique. There's enough here to mix and match for work and play looks, but if you already own something like the Hourglass Dune duo, MAC Sumptuous Olive, Brule, Woodwinked and Concrete, you probably already have colors similar to these.
PRICE: $47.50
AVAILABILITY: Available now at Bobbi Brown counters and bobbibrown.com
MAKEUP AND BEAUTY BLOG RATING: B+
Your friendly neighborhood beauty addict,
Karen
P.S. TGIF!