Well I'll be a monkey's uncle! Bath & Body Works discovered an interesting way to combine two of my favorite things in the world — travel and hand soap.
Each of the five new scents in the American Grown line of limited edition hand soaps and shower gels is based on a different US destination.
Available from now through September, there's Savannah Mint, Montana Sky, Napa Grape, Siesta Key Lemon and Washington Apple, thank you very much. 🙂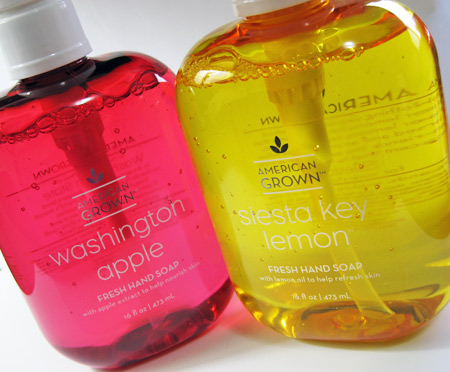 BBW scored by going with big, colorful bottles and pegged them at the right price. The 24-oz bottles of body wash retail for $13, the 16-oz hand soaps for $8, but they're on sale now for $10 and $5, respectively.
Not a bad deal, yah?
Even though I'm a little OCD about hand washing, 16 ounces is a lot of product — enough to even last me a while.
I've sampled four of the five fragrances (haven't tried the Savannah Mint), and each of them brought back fond memories of adventure…
Montana Sky

Montana, 2001
Some years ago I visited a friend in Montana and felt like an ant under those endless skies. But Montana Sky smells more aquatic than Big Sky Country to me. It's very fresh and light and reminds me of MAC's Turquatic fragrance, a personal fave. Makeup and Beauty Blog Rating: A
Napa Grape

Napa Valley, 2009
I don't live far from Napa's wine country (it's about two hours north) but still don't make it up there enough. BBW says Napa Grape embodies rolling hills and wine grapes, but I'm thinking it's more a sassy sparkling wine. I really like the addition of grape seed oil to help condition and protect my claws. 🙂 Makeup and Beauty Blog Rating: A
Siesta Key Lemon

Key West, 2008
After my BFF's wedding in Florida last fall, El Hub and I drove the couple hundred miles down through the Keys. The tiny islands of Florida's Keys extend out into the Gulf of Mexico, connected by multiple bridges. There's a sunny climate perfect for growing Meyer lemons like the ones in BBW's Siesta Key Lemon. The soap contains refreshing lemon oil and has a mildly sweet (not sugary) citrus scent. Makeup and Beauty Blog Rating: A

Washington Apple
The last time I visited Washington was back when Beyonce toured with Destiny's Child (in other words, it has been a while). BBW's Washington Apple has a sweet but slightly artificial apple scent that reminds me of old-school scratch and sniff. Makeup and Beauty Blog Rating: B-
I reckon I'd like Savannah Mint, the American Grown scent I haven't tried… Lawd knows I like the name! If you've caught a whiff, let me know what you think.
As one might expect, the American Grown hand soaps are more than mere fragrances. They're actual hand soaps, too, cleaning and softening my hands without over-drying the skin. That, and they rinse cleanly away (no noticeable residue). If you're on the market for a new hand soap, they might be worth a try. 🙂
My Friday night with Kanye
Did you do anything fun last night? I had a nice surprise while channel surfing on the couch. I stumbled upon a prerecorded Kanye West concert on something called Fuse TV (a music television network — so cool!).
I've never seen Kanye live in concert, but I'm a big fan. The rapping was awesome, but his singing was kinda sketchy … oy. I gotta hand it to him for pushing himself musically and trying new things, but homeboy could probably invest in a few voice lessons. His vocal stylings featured MANY off-key moments.
Still lovin' ya, K. West! 🙂
Anyhooty, what are you up to today? I'm off to run some errands, but I'll be back soon.
Your friendly neighborhood beauty addict,
Karen
P.S. Check out the Bath & Body Works Great American Hand Soap Event. Their soaps are on serious sale right now (5 for $15 or 7 for $20 for their anti-bacterial line).