Summer showcases so many bright, bold coral blushes (hello, MAC My Paradise!), but if you're a paler princess struggling to find summer shades that work well with your skin tone, you might really like Elizabeth Arden's new Pure Finish Mineral Cheekcolor in Sunkissed Coral ($28), one of seven pieces in the new Bronze in Bloom Summer 2011 Collection.
I had to apply four layers of this pinkish coral sheen to get it to make a statement on my tan skin, but I'm betting that a single layer would give lighter lasses a gentle, summery flush.
While I give the packaging major points in the cute category (LOVE that it fits in my palm), I wouldn't have minded a wider pan. It comes with a mini kabuki brush, which does fit inside just fine, but the pan's too small for my blush brush (at least without having to shove). A small detail, but it's a little irksome.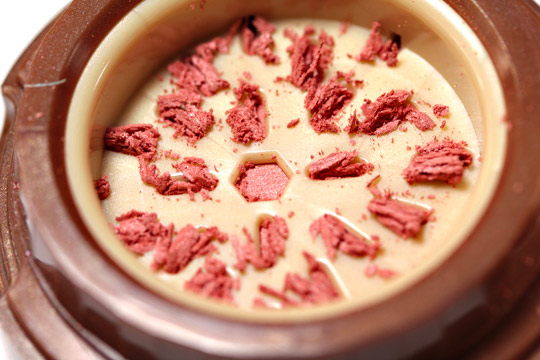 I adore the finish's subtle sheen, but because I have to apply so many layers, I'll probably reserve this for those rare mornings when I have extra time. If you're lighter than I am, though, Sunkissed could be your perfect coral summer blush.
PRICE: $28
AVAILABILITY: Available now at Elizabeth Arden stores and also online
MAKEUP AND BEAUTY BLOG RATING: B
Your friendly neighborhood beauty addict,
Karen
P.S.