Goody Spin Pins ($6), ohmahgawd, they're awesome. I brought a pair with me on my trip last weekend based on your recommendations, so thank you — you were so right!
They're basically these beefed up, coiled metal bobby pin-like doohickies (two per pack) for securing your hair into a bun; Goody says each one does the work of 20 bobbies (no, not the ones in law enforcement), and they come in two shades, one for lighter hair and one for darker. Each pack comes with two pins.
Most of the time my long hair's a big pain in the @ss. In the time it takes me to do a bun, inserting the 30 or so bobby pins it takes, people all around the world are accomplishing epic things. They're writing novels, learning how to drive a stick, circumnavigating the globe — seriously, bobby buns take me a really long time.
The prospect of putting my hair up with just two pins kinda boggled my mind, but these suckers really work! I don't know how (well, I could probably figure it out), but they do.
First, you take your hair, pull it back, and wrap it into a really tight bun. Then, you tuck in the ends and screw in the first pin at the top. The second pin goes in through the bottom of the bun, locking it in place. That's it! Through some miracle of magic or science, your bun's done!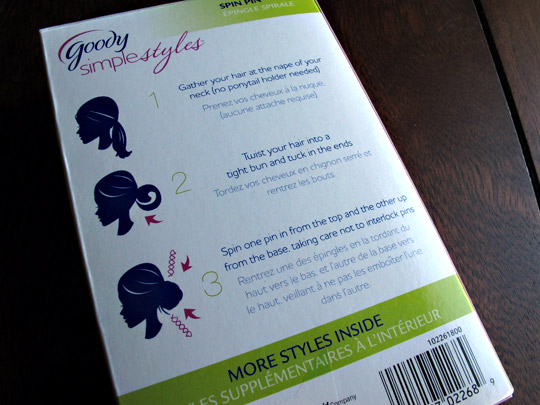 Smaller buns, like with the hair half up/half down, seem to stay put longer than larger buns do. They'll loosen throughout the day but won't completely fall apart. Larger buns, however, or lower buns worn at the bottom of my neck, give up the ghost quicker, maybe lasting two or three hours before having to be redone.
The Goody pin coils (like springs) themselves may loosen over time, depending on how thick your hair is and how tightly you twist your buns, LOL! 🙂
Now I can see what everyone's been raving about!
Makeup and Beauty Blog Rating: Extra thick hair might require two pairs, but Goody Spin Pins outdo bobbies for buns any day of the week. Available at Walmart, Target, CVS and Walgreen stores, and online at target.com. Grade: A
Your friendly neighborhood beauty addict,
Karen