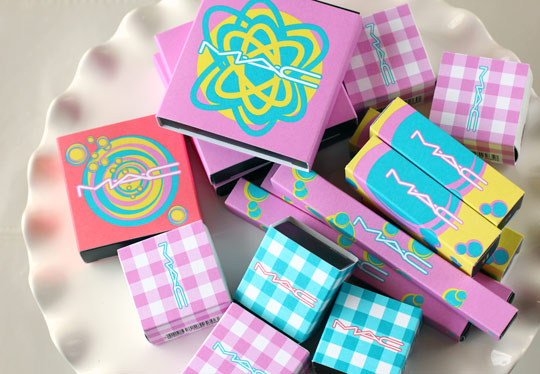 Whew! Chef Tabs has been running me ragged in the kitchen today. He wouldn't allow me to post these pics of pieces from the new Shop MAC and Cook MAC collections until he felt they were plated just right.
Geez, cat wins one Quickfire on Top Chef, and he thinks he's the next Richard Blais… 🙂
The limited edition launches are available now online and arrive in stores and on MAC counters tomorrow.

Eye Shadow X4 in Shop & Drop, $38

Eye Shadow X4 in Call Me Bubbles, $38

Eye Shadow X4 in Colour Added, $38

Lipsticks clockwise from the light pink shade in the lower left: Naughty Saute, Innocence Beware, Dish It Up and Quick Sizzle, $14.50 each



Tendertone Lip Balms clockwise from the orange shade on the left: Purring, Hot 'n' Saucy, Hush, Hush and Tread Gently, $15 each

Kissable Lipcolours from the top to bottom: So Vain, Woo Me and Flaunting It, $19 each

Cremeblend Blush in Restores Dazzle, $20

Fluidline in Wholesome (left) and Added Goodness (right), $15 each

Eye Shadow X4 in Shop & Drop

Eye Shadow X4 in Call Me Bubbles

Eye Shadow X4 in Colour Added

Tendertones swatches from the left: Tread Gently, Purring, Hot 'n' Saucy and Hush Hush

Swatches from the left: Lipsticks in Innocence Beware, Naughty Saute, Quick Sizzle and Dish It Up; Kissable Lipcolours in Flaunting It, So Vain and Woo Me; Cremeblend Blush in Restores Dazzle; Fluidlines in Wholesome and Added Goodness
Your friendly neighborhood sous-chef,
Karen