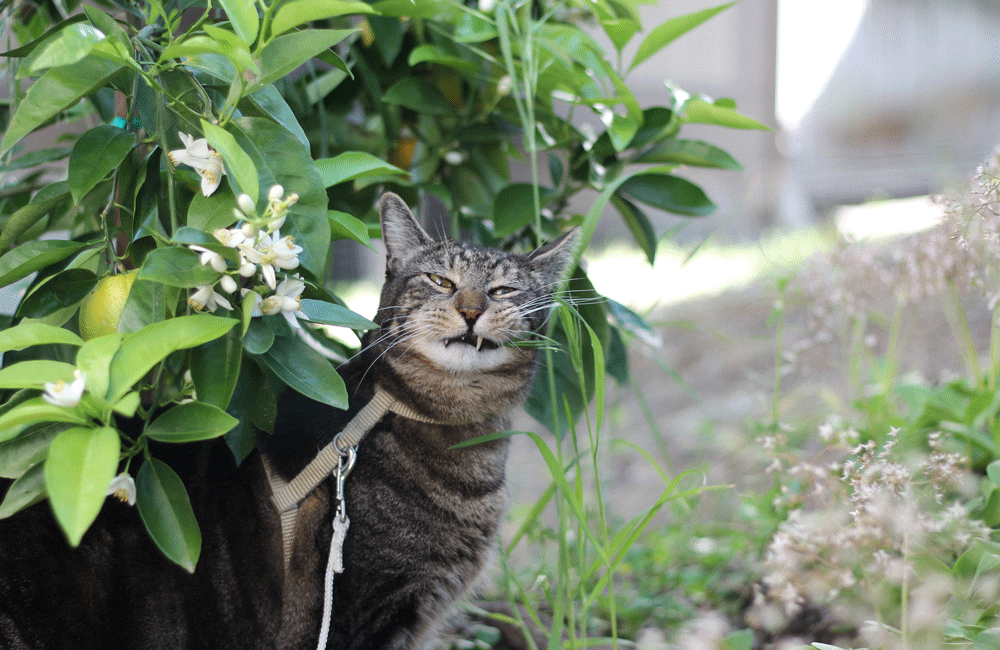 Tabs was hongry today on our walk. Not just hungry, but hongry. He was ravenous! He didn't even care about the giant turkeys gobbling on the hill or the little kids shouting at the neighborhood playground. He was too busy hunting for the freshest, tastiest shoots of grass, which were hard to find today because the condo landscapers mowed the hill this week.
Tabby loves Novato so much, and we're coming up on the best time of year for kitty exploring. The days are nice and long now, which means that he can go for more walks.
The only problem is that everyone else has the same idea, so there are also more trespassers and violators of the Tabs the Cat Industries LLC property perimeter.
Consequently, sometimes Tabs has to flex his kitty muscles to show 'em who's boss, and he's always ready to throw down, because you never know when some other cat will attempt a hostile takeover. As I'm sure you know, the kitty modeling business is cutthroat.
The constant threat posed by temperamental turkeys, pushy people, cantankerous kitties and drool-covered dogs keeps Tabs on constant high alert. Sometimes he even jumps at his own shadow…
But that's the kind of diligence it takes to protect a world-class kitty modeling empire. 🙂
Your friendly neighborhood beauty addict,
Karen