As Tabs likes to say, "Mrow, meow-rrow-wow." Translation: stripes are always a good thing. 🙂
Yes, my hair is still dark in these pics because I took them before I left for the salon yesterday; hence the chocolate brown.
This striped "strappy" flare dress is yet another find from LOFT that I'm absolutely loving. (I swear, that store needs to stop having sales every five seconds, because they're very hard to resist!) I got it on sale on their website a while back for 40% off. Woop-woop!
It's soft, comfortable cotton, for starters, and you know me. If something pinches or binds, or if it's itchy or otherwise uncomfortable in any way, I'm SO not having it.
It also has some stretch to it, so the dress moves as you do, and hello, jackpot! — you can throw it in the washer at home. You don't have to take it to the dry cleaners.
I'm wearing it here with a white collarless jacket because I was in the mood to dress it up little, but it also looks pretty cute with a cardigan or a denim jacket, or all by itself on a warm day.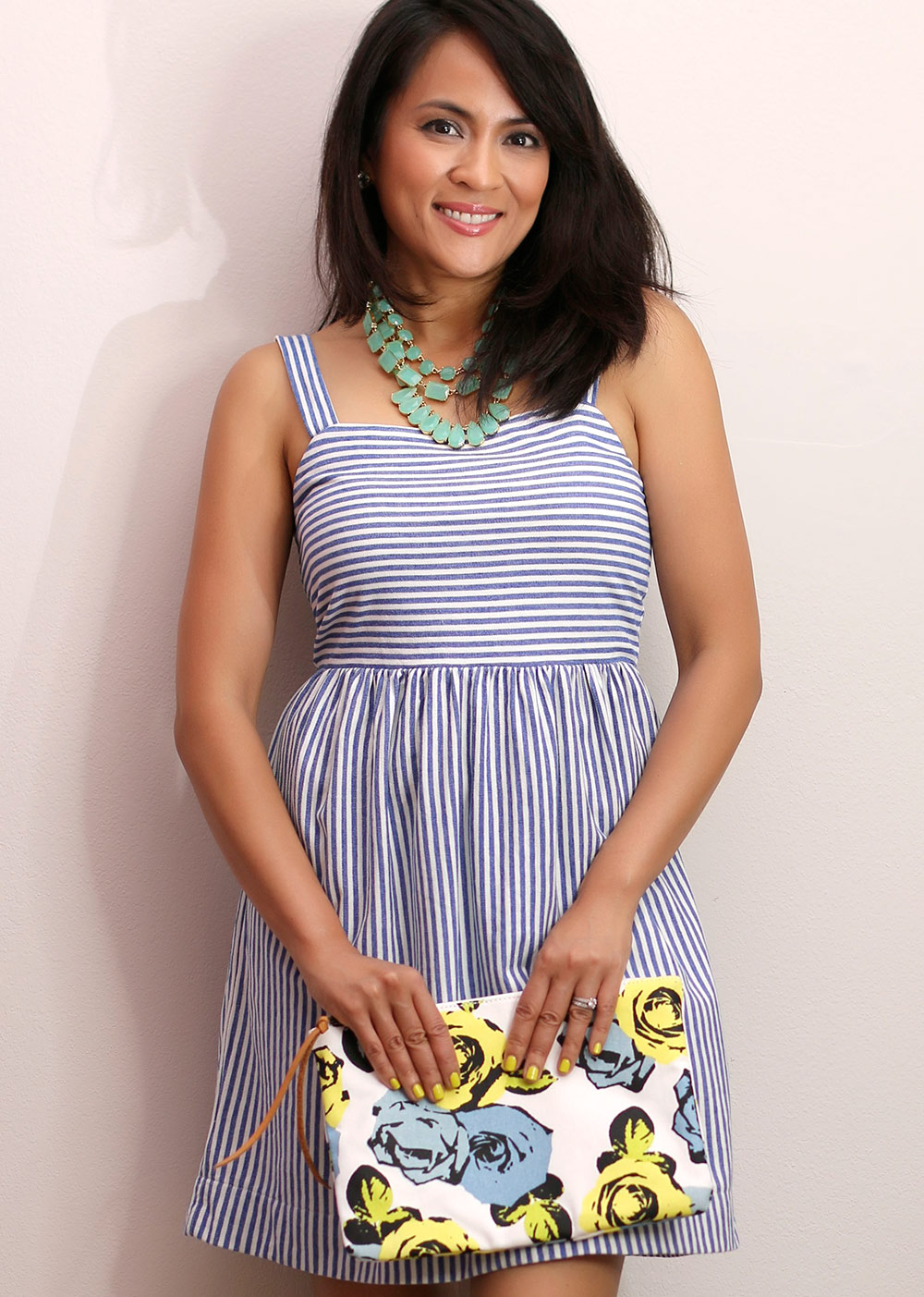 To play up the stripes, I paired it with a floral patterned clutch, because I like the contrast of the curvy flowers with the long lines on the dress.
'Tis pleasing to my eye!
Then I painted a lemon-lime nail polish on my tips to accentuate the tones on the purse.
I guess I could've worn a different necklace…because now that I think about it, the jade green looks a little out of left field, but I still like the idea of the green with the purse's yellow. I like how it breaks things up and keeps the outfit from looking too matchy-matchy.
Dress — LOFT Striped Strappy Flare Dress
Clutch — LOFT Art Floral Pouch
Jacket — Leifsdottir (here's something similar)
Necklace — Kate Spade (something similar)
Earrings — Kate Spade
Shoes — Jelly Pop
Lips — MAC Huggable Lip Colour in Play It Soft
Eyes — MAC Amber Times Nine Eye Shadow X 9
Nails — Paul & Joe Nail Polish in Bitter Lime
Your friendly neighborhood beauty addict,
Karen
P.S. Happy hump day, by the way. 🙂 What are you wearing?