OK, so even if rose gold has jumped the shark, and I'm not saying it has, I don't care. I'm not over it yet, and apparently Physicians Formula isn't either, because it's all over their new Nude Wear Nude Glow makeup collection like attitude on cats. 🙂
What's up with the new Physicians Formula Nude Wear Nude Glow collection?
How 'bout lingerie? The pieces were designed to feel like luxurious lingerie on the skin.
The formula feels as light as a feather, almost like nothing at all, and the finish is practically, except for a gorgeously understated glow, invisible.
We are talkin' sheer! Hence the name, the products have something PF calls "Nude Glow" pigments — translucent pigments, as opposed to traditional opaque pigments, that allow your skin's natural color and radiance to show through.
The seven-piece collection includes the Nude Wear Nude Glow Powders ($14.95 each, and available in Light and Medium); Nude Wear Nude Glow Bronzers ($14.95 each, available in Light Bronzer and Bronzer); Nude Wear Nude Glow Blushes ($12.95 each, available in Rose and Natural); and one Nude Wear Nude Glow ($12.95, available in a single shade, Touch of Glow).
All have been added to the Physicians Formula permanent line, and are available now at drugstores, in many grocery stores and also online.
Physicians Formula Nude Wear Nude Glow Blush in Natural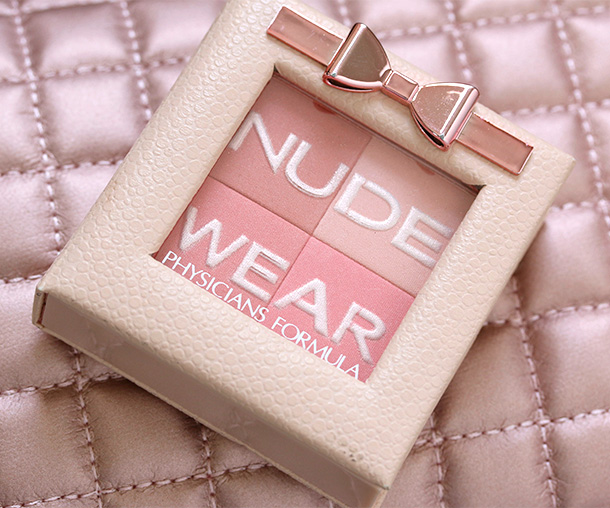 A pinkish peach powder blush with an opalescent glow.
I bet this one would look pretty as a highlighter.
Hello, sheer! Super sheer! — and totally fool-proof. Perfect if you tend to be heavy-handed with blush.
Physicians Formula Nude Wear Nude Glow Bronzer in Bronzer
Whoa! There must be 10 pounds of disco glitter in that overspray! Thank goodness it (the overspray) wears away… There's way too much glitter there for me at first.
Like the blush, this one's sheer times 12! It doesn't really show up well on my NC42 skin.
Probably better for pale pretties and others who want a light semblance of all-over bronzing, rather than a straight-up contour color.
Physicians Formula Nude Wear Nude Glow Powder in Medium
Again with the gobs o' glitter in the overspray!
And again, sheer. There's hardly any pigment in this one at all.
Good for cutting down on shine and adding a soft, barely-there peach glow to the skin. Other than that, though, not much coverage to speak of from this one.
Physicians Formula Nude Wear Nude Glow Touch of Glow
This one's a sheer peachy pink pen highlighter.
If MAC Prep + Prime Highlighter in Bright Forecast came in a pinker color…
I love how lightweight this one feels and how easily it blends, but it looks grayish, for some reason, on my skin. Might be a better fit for lighter lasses and cooler skin tones.