I hope the holidays are hella balm, girl, because you know what!? YOU DA BALM.
You da balm dot com!
The balm…? Get it??
Alright, alright, I know. Weak word play…but it's so much fun. 🙂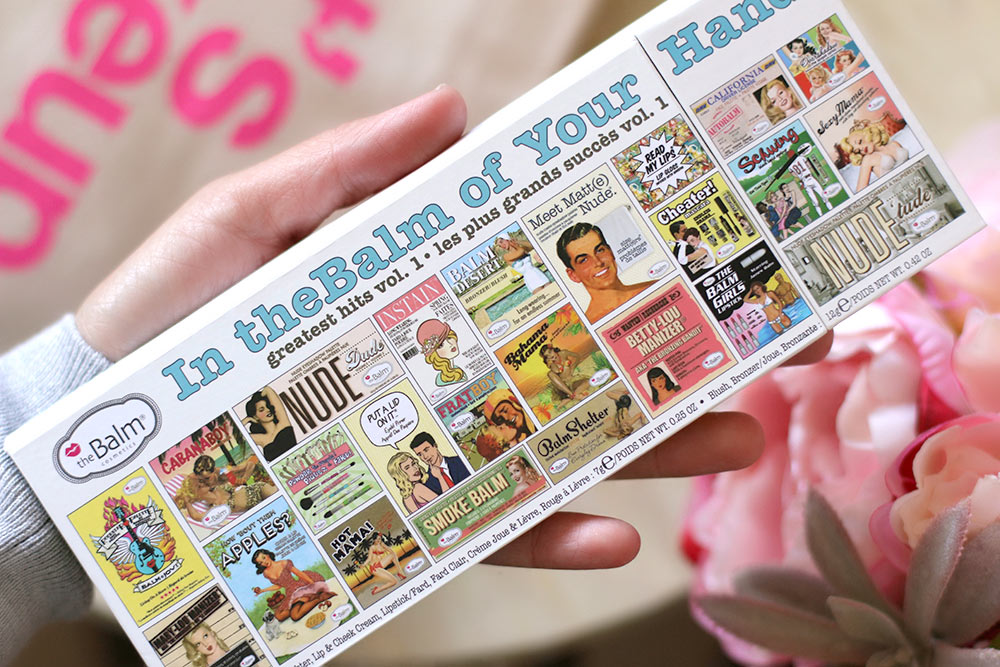 The holidays have officially begun over at theBalm. Their new holiday 2015 collection is available now, and it's just two pieces — actually, two palettes. One of them is called "In theBalm of Your Hand Greatest Hits Vol. 1," so you'll literally be able to hold theBalm in the palm of your hand.
Both palettes are filled with some of the brand's most popular products, so there aren't any new colors here. One consists of powder and cream products for eyes, cheeks and lips, and the other contains a trio of powder highlighters.


Because these are both sort of "greatest hits" palettes, they're a good way to get familiar with the brand if you aren't already. With the $39.50 "In theBalm of Your Hand" palette, you get three blushes, one bronzer, a highlighter, four eyeshadows and two combo lip/cheek products, and yay! — some of them are things I've been wanting to try, like the Hot Mama and Instain blushes.
I'm always in favor of things that make my life easier, like the separate flap that covers the cream products in the "In theBalm of Your Hand" palette (in the in the?), so you can cover the creams and keep them clean while you're working with the nearby powder products.
Isn't that nice? No cross pollination!
Now, I haven't played extensively with this palette yet, but I have worn the blushes, the bronzer and the highlighter. I've yet to explore the four eyeshadows, but I have used theBalm's eyeshadows before, and I like 'em. They have an easy-to-blend, soft formula (comparable to Too Faced shadows); most of them are very wearable, too, and have a healthy amount of pigment.
I'm also pretty excited about The Manizer Sisters Palette. In it, you get three of theBalm's bodacious highlighters — the awesome golden Mary-Lou Manizer, pinkish gold Cindy-Lou Manizer and bronzy gold Betty-Lou Manizer.
Great! I think these are great. They remind me a lot of BECCA's Shimmering Skin Perfector Pressed highlighters. You can use them for soft and subtle effects, or turn that ish up to highlighter heaven. If you haven't tried these highlighters yet, this palette's a good way to get them all in one place.
Both palettes/potential stocking stuffers are available meow online and at theBalm counters. Lots more pictures and info in the video at the top.
As always, thank you for watching.
Your friendly neighborhood beauty addict,
Karen