1. Pears
Mmm… Sweet green, juicy pears. I love them so much right meow! I got a huge bag of organic pears at Trader Joe's last Sunday, and most of them have already managed to find their way into my tum. 🙂 I might be on the verge of a full-on pear obsession.
I get that way sometimes about certain foods, where I ravenously crave them every day, over and over for weeks or months, and it's starting to happen with pears.
I still haven't succumbed to the temptation to "borrow" any from the huge pear tree I pass every day on my walk, but today may be the day… We'll know by around 7 o'clock tonight.
2. Tocca scents
I keep a bunch of perfumes on this cake stand display on top of my dresser, but the only one I've been wearing lately is Byredo Gypsy Water, and I've been wearing it for months.
Hmm… This might be a good time to try a different scent every day with a scent of the day series on Instagram! That might be fun.
In the process of sniffing some of these today I discovered that a couple of them had gone sour. 🙁 The ancient bottle of Estée Lauder Private Collection perfume I've had forever smelled like moonshine, OMG!
It broke my heart to ditch it because it was a gift, but in the process of test sniffing these, I rediscovered some old faves, like, basically, EVERYTHING from Tocca.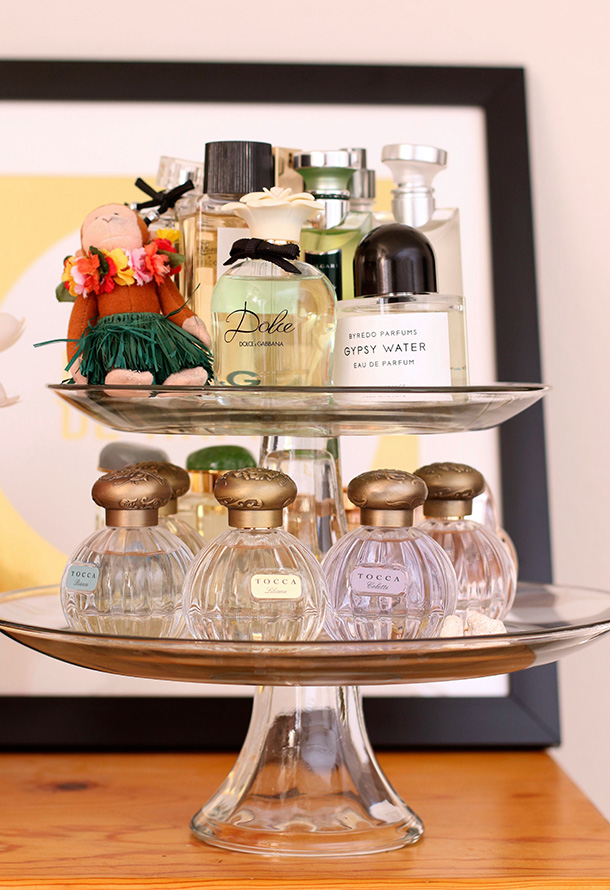 Why did I ever stop wearing Tocca?? Their scents, while delicate, still have such presence, and whenever I wear one I just feel…chipper and glad. And, hello! — they last all day long too.
Today I'm wearing Violette, which I really like (but I like Bianca and Graciella even more).
3. Aveda Clove Color Conditioner

I have caramel highlights in my hair from about the mid-shaft to the ends, and I've been using and LOVING this Aveda Clove Color Conditioner ($21) to keep 'em looking vibrant and fresh.
All I do is wash my hair, then use Clove instead of my regular conditioner, and I leave it in for a few minutes before rinsing it out. I think it makes my highlights much richer (Clove in place of my regular conditioner once a week is enough to keep the highlights poppin'), and it has a fresh, very Aveda-esque herbal scent that I like. The only thing is…it's kind of pain to keep the shower stall clean when you use it because it's pigmented, so it'll leave a stain in the tub if you're not careful.
That's why I bring a scrub brush with me into the shower, and after I rinse my hair, I'll quickly scrub the shower walls to remove any spots or smears.
[Continue reading…]