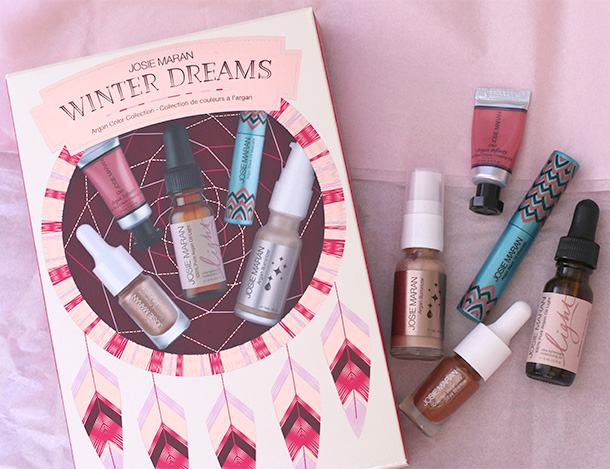 As simple as it sounds, a little shimmer and shine can go a long way when you want to look fresh-faced and radiant in a flash.
I had this "Aha!" moment last weekend when I was getting ready to meet friends in the city for brunch.
I woke up late (purr usual) that morning, even with the extra hour from Daylight Savings (apparently, I need more sleep than a fairytale character), and I had less than 10 minutes to put on ye olde warpaint.
I grabbed Josie Maran's new Winter Dreams Argan Color Collection ($34).
Every nifty nibble in this five-piece set contains Argan oil, the moisturizing magic ingredient in Josie's makeup that's supposed to make lines and wrinkles look less obvious.

The set includes…

A 0.17-oz. tube of Argan Black Oil Mascara
A 0.16-oz. tube of Argan Infinity Lip and Cheek Creamy Oil in Limitless Pink
A 0.16-oz. bottle of Coconut Watercolor Eyeshadow in Rio de Rose Gold
A 0.15-oz. bottle of Argan Illuminizer
A 0.5-oz. bottle of 100% Pure Argan Oil Light
I hadn't washed my makeup brushes since the last time I'd used them, so I ended up doing everything from start to finish using just my fingers. By the time I was done, I felt like I still looked like myself (I don't like to wear a ton of makeup to Sunday brunch), but perkier…and more luminous, LOL! In other words, less likely to scowl at strangers on the street before I've had any coffee. 🙂
[Continue reading…]